TC-600 Golden Modem VDSL Tester with 35G/Annex A/Annex B
I. INTRODUCTION
TC-600 VDSL2 tester specially designed for xDSL line test (xDSL include: ADSL, ADSL2, ADSL2+, READSL, VDSL2 etc.) and maintenance. It provides xDSL test, PPPoE dial test, DMM test, Modem emulation, line voltage indication and so on.
TC-600 VDSL2 tester also introduces the Optical Power Meter and Visual Fault Locator function into the unit, as well as the TDR function.
It is one multifunctional tester with smart size, true color LCD and powerful management software as well as the 7200mAh rechargeable battery etc.
There are total three sub models of TC-600 series VDSL2 tester:
TC-600A can support Annex A and up to 17a(100Mbit/s);
TC-600B can support Annex B and up to 17a(100Mbit/s);
TC-600C can support up to 35B(300Mbit/s).
II. MAIN FEATURES
-- Test objects: ADSL, ADSL2, ADSL2+, READSL, VDSL2
-- Annex A(100Mbit/s), Annex B(100Mbit/s), 35B(300Mbit/s) can be optional.
-- Fast copper tests with DMM (ACV, DCV, Loop and Insulation Resistance, Capacitance, Distance)
--Supports modem emulation and simulating login to Internet
--Supports ISP login (username / password) and IP Ping test (WAN PING Test, LAN PING Test)
--Beep and LEDs alarm indications (Lower Power, PPP, LAN, xDSL)
--Supports all multi-protocol, PPPoE
--Connects to CO via alligator clip or RJ11
--Rechargeable Li-ion battery
-- Data memory function
-- LCD display, Menu operation
--Auto shut off if no any operation on keyboard
--Compliant with all known DSLAMs
--Software management
--Simple, portable and money-saved
III. FUNCTIONS
--Optical Power Meter (Optional)
--Visual Fault Locator (Optional)
--TDR Cable Fault Locator (Optional)
--DSL physical layer test
--Modem Emulation (replace the user's modem completely)
--PPPoE Dialing (RFC1683, RFC2684, RFC2516)
--Telephone Function
--DMM Test
--Ping Function (WAN & LAN)
--Check dangerous voltage
--Data upload to computer and software management
--Setup system parameter: backlight time, shut off automatically, press tone etc.
--Revise PPPoE dial attribute, user name and password; restore factory value and so on.
IV. LAYOUT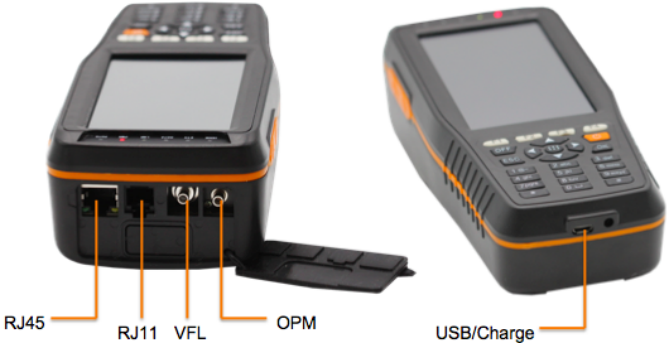 IV.
V. SPECIFICATIONS

ADSL2+

Standards

ITU G.992.1 (G.dmt)

ITU G.992.2 (G.lite)

ITU G.994.1 (G.hs)

ANSI T1.413 issue #2

ITU G.992.5 (ADSL2+) Annex L

Up Channel Rate

0~1.2Mbps

Down Channel Rate

0~24Mbps

Up/Down Attenuation

0~63.5dB

Up/Down Noise Margin

0~32dB

Output Power

Available

Error Test

CRC, FEC, HEC, NCD, LOS

Display DSL Connect Mode

Available

Display Channel Bit Map

Available

ADSL

Standards

ITU G.992.1 (G.dmt)

ITU G.992.2 (G.lite)

ITU G.994.1 (G.hs)

ANSI T1.413 Issue # 2

Up channel rate

0~1Mbps

Down channel rate

0~8Mbps

Up/Down attenuation

0~63.5dB

Up/Down noise margin

0~32dB

Output power

Available

Error test

CRC, FEC, HEC, NCD, LOS

Display DSL connect mode

Available

Display channel bit map

Available

VDSL2

Be compatible with ADSL2+, ADSL standard.

DSL line attenuation

DSL line noise margin

DSL line up/down channel speed (Inter/Fast mode)

DSL line up/down maximum rate

DMT sub channel bit number: 0~15 and each sub channel frequency points

DSL line error number (CRC, HEC, FEC, LCD, OCD)

DSL line local output power

DSLAM information

Error Code Second

Impulse Noise Protection (INP)

TC-600A

Support Annex A and 7 VDSL2 profiles: profile 8a, 8b, 8c, 8d, 12a, 12b, 17a (100Mbit/s)

TC-600B

Support Annex B and 7 VDSL2 profiles: profile 8a, 8b, 8c, 8d, 12a, 12b, 17a (100Mbit/s)

TC-600C

Support 9 VDSL2 profiles: profile 8a, 8b, 8c, 8d, 12a, 12b, 17a, 30a, 35b (300Mbit/s)

DMM Test

DC Voltage (V)

0~400

AC Voltage (V)

0~400

Loop Resistance (Ω)

0~20000

Capacitance (nF)

0~1000

Insulation Resistance (MΩ)

0~50

TDR Test (Optional)

Test Distance (km)

2.5

Fault Type

Break/Mix

Dead Zone (m)

<1

Resolution Rate (m)

1

Optical Power Meter (Optional)

Measurement Range (dBm)

-70~+10

Detector

InGaAs

Accuracy

<±3% (-10dBm, 22℃)

Resolution

Linearity: 0.1%; Non-linearity: 0.01dBm

Visual Fault Locator (Optional)

Output Power (mw)

1

Test Distance (km)

5km

Wavelength (nm)

650 ± 20

Output Modes

Continuous (CW), 2Hz pulsed

Cable Tracing (Optional)

With supplied accessories, it can do cable tracing and find the trend of the lines

General Parameters

LCD

4 inch, 800x480 TFT

Power Supply

Internal Rechargeable 7200mAH Li-ion battery

Battery Duration (h)

> 8

Working Temperature (℃)

0~+50

Humidity

≤ 85%

Dimensions (mm)

175×80×52

Weight (g)

< 500
VI. TEST INTERFACE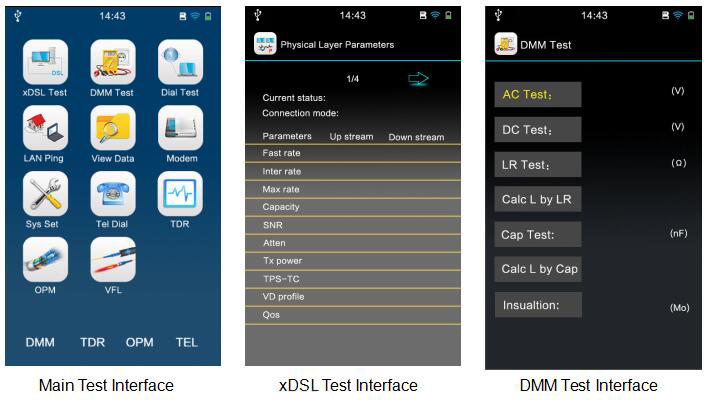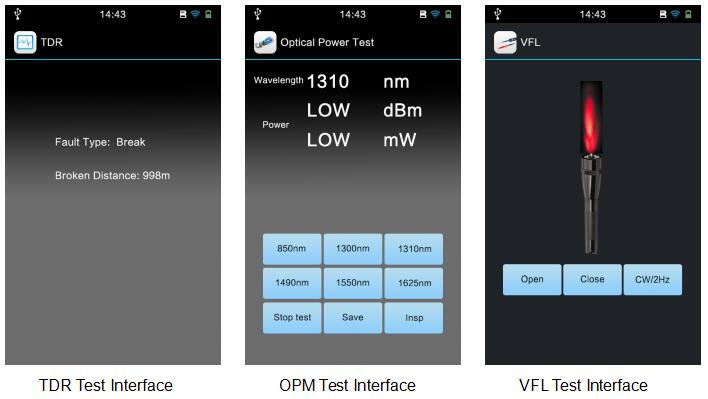 VII. PACKAGING

| | | |
| --- | --- | --- |
| NO. | ACCESSORY | QTY. |
| 1 | TC-600 VDSL Tester | 1pcs |
| 2 | RJ45 Test Line | 1pcs |
| 3 | RJ11 Test Line | 1pcs |
| 4 | USB Cable | 1pcs |
| 5 | Charger | 1pcs |
| 6 | Carrying Bag | 1pcs |
| 7 | CD (with management software) | 1pcs |
VIII. ORDERING INFORMATION
CONFIGURATION

ORDERING CODE

FUNCTION

NOTE

TC-600A VDSL Tester Annex A and up to 17a(100Mbit/s)

TC-600A

VDSL / DMM / PING / PPPOE Dial etc.

Basic/Standard

TC-600B VDSL Tester Annex B and up to 17a(100Mbit/s)

TC-600B

VDSL / DMM / PING / PPPOE Dial etc.

Basic/Standard

TC-600C VDSL Tester Support up to 35B(130Mbit/s)

TC-600C

VDSL / DMM / PING / PPPOE Dial etc.

Basic/Standard

TDR Function

T

Test Break/Mix Cable Faults

Optional Module

OPM+VFL Function

O

Optical Power Meter and 1mw VFL

Optional Module

Cable Tracing Function

C

Cable Tracing

Optional Module

For Example:

If you need 35B VDSL Tester with TDR/OPM/VFL optional functions, the ordering code will be TC-600C-TO