TC-280 SM/MM OTDR
SM/MM OTDR
| | | | |
| --- | --- | --- | --- |
| Sub-Model | Testing Wavelength | Dynamic Range | Event/Attenuation Dead-Zone |
| TC-280A | 1310nm/1550nm | 30/28dB | 0.8/4m |
| TC-280B | 1310nm/1550nm | 32/30dB | 0.8/4m |
| TC-280C | 850nm/1300nm | 19/21dB | 1.2/8m |
1. Dynamic range is measured with maximum pulse width, averaging time is 3 minutes.
2. Event dead zone is measured with minimum pulse width.
I. Main Features

-- Integrated design, smart and rugged.
-- Small and light, easy to carry.
-- Battery indicator function.
-- Long working hours for outdoor operation.
-- Friendly interface, visual keyboard capable.
-- Multi-measuring modes, simple to use, finish measurement by just one button.
-- Realtime measuring function, convenient to monitor the splicing process.
-- Internal 10mw visual fault locator for accurate positioning the closer fault point.
-- Warning function could prevent module of OTDR damaged by optical signal.
-- PC Remote access and control function is available via USB interface.
-- Provide data simulation software to process, generate and print report.
-- Integrated with 8GB internal memory and can store more than 80000 groups of traces.
II. Main Functions
-- Automatic Measurement Mode: Operators don't need to choose the test distance and pulse width, the tester will automatically judge the length and choose suitable dynamic range as well as pulse width to complete the work; the storage of event trace can be saved manually or automatically.
-- Multiple Wavelengths Measurement Mode: In order to use different wavelengths to execute the loss calculation in one fiber, we can choose duplex wavelengths test mode from parameter settings, the tester will switch wavelengths automatically.
-- Multiple Trace Analysis: Simultaneously display 4 traces, operators can compare the traces and make analysis of any ones among the traces.
-- Duplex Operation Mode: Pure operation via touch screen or pure operation via the pressing keys.
III. Typical Events
-- Precision judgment of fiber faults; splicing posit and connector terminal
-- Precision measurement of test distance and the fiber loss
-- Contracted design style, lively graphical interface, easy operation and easy analysis of various events
-- Measure the length of whole fiber; length between two points, as well as the distance, loss and attenuation coefficient etc.
-- Detailed description of fiber loss distribution curve and the events
IV. Specifications
Test Parameters

Sub Model

TC-280A

TC-280B

TC-280C

Fiber Type

Single Mode Fiber

Single Mode Fiber

Multimode Fiber

Wavelength

1310nm/1550nm

1310nm/1550nm

850nm/1300nm

Dynamic Range

30/28dB

32/30dB

19/21dB

Pulse Width

5ns/10ns/20ns/50ns/100ns

500ns/1μs/2μs/5μs/10μs

5ns/10ns/20ns/50ns

100ns/500ns/1μs

Testing Distance

1.3km/2.5km/5.0km/10km

20km/40km/80km/120km

100m/400m/1.3km/2.5km

5km/10km/20km/40km/80km

Sampling Resolution

Minimum 0.05m

Sampling Point

Maximum 128,000 points

Linearity

≤0.05dB/dB

Loss Threshold

0.01dB

Loss Resolution

0.001dB

Distance Resolution

0.01m

Scale Indication

X axis: 4m~70m/div; Y axis: 0.09dB/div

Distance Accuracy

±(1m+measuring distance×3×10+sampling resolution)

Refractivity Setting

1.2000~1.5999, 0.0001 step

VFL Module

Visual Fault Locator

650nm; 10mw CLASS III B; 12km range; CW/2HZ mode

General Parameters

Display

5.6 inch TFT Touch LCD

Battery

7.4V/4.4Ah lithium battery

Continuously work 8 hours

Charging time 4 hours

Data Storage

80000 groups of Trace

Interface

3×USB port (USB×2, Mini-USB×1)

Working Temp.

-10℃~+50℃

Storage Temp.

-20℃~+70℃

Humidity

≤95% (non-condensation)

Dimension (mm)

253×168×73.5

Weight (kg)

1.5(battery included)

Packaging List

OTDR, charger, strap, SC/ST/FC connector, USB cable, carrying bag, cleaning cotton, CD (with software and user manual)
V. Compared With EXFO OTDR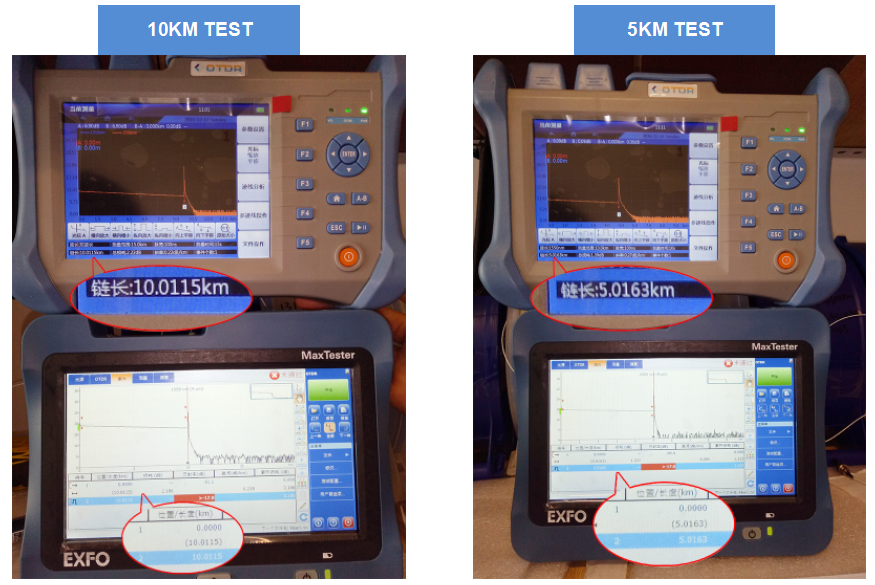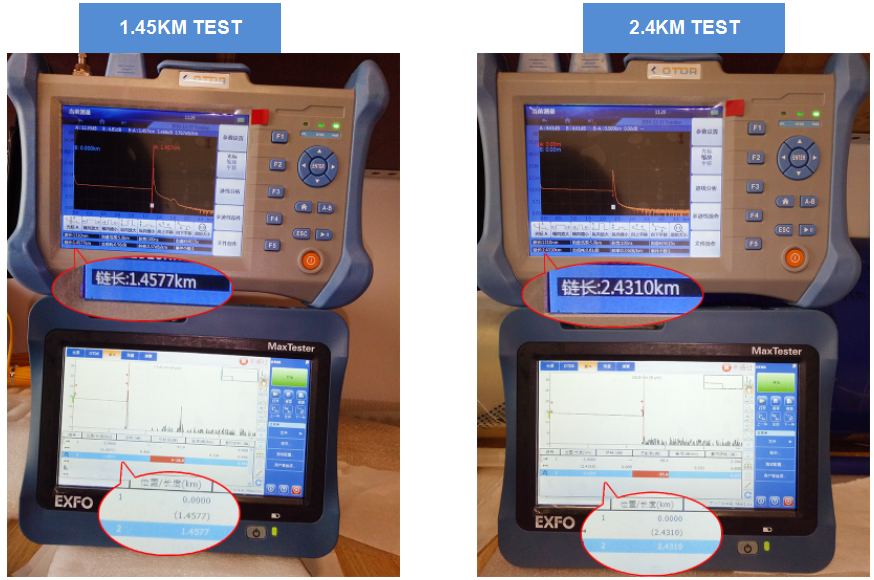 VI. Packaging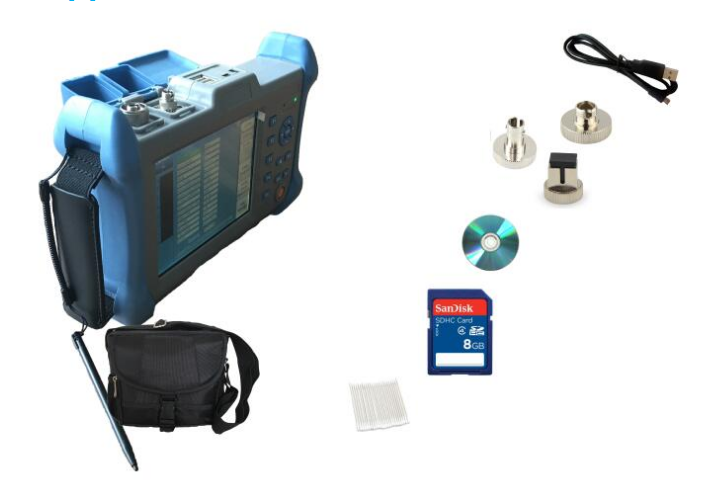 VII. Management Software