TC-85 Fiber Ranger with VFL
TC-85 Fiber Ranger is the most portable test instrument in the industry. It adopts the OTDR technical principles and integrates the powerful analysis software, which enables the fiber ranger to detect fiber faults location more accurate and easy.
FEATURES

• Portable, rugged, lightweight and easy to use
• More accurate testing results and better repeatability
• Up to 8 fiber faults can be detected in each measurement
• Automatic Pulse Width Control design to ensure a convenient operation
• Easy to identify the faults location
• Liver fiber detection
• OTDR connector for the fiber ranger port.
• Built-in visual fault locator (VFL), conveniently to find the faults in dead zone
• Long battery life, up to 5000 measurements operation.
• Data storage function, up to 1000 test records
• USB communication port for saved testing records download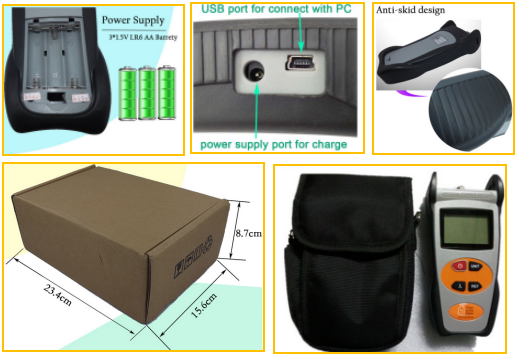 SPECIFICATIONS
Sub Model

TC-85A

TC-85B

Wavelength

1310nm

1550nm

Fiber Type

9/125um SM Fiber

Optical Connector Type

FC/SC/ST

Detector Type

InGaAs

Peak Power of laser (mW)

≥60

Max.

Displaying Distance

Reflection Event (km)

60 (≥1dB)

Non-reflection Event(km)

20 (≥2.5dB)

Measurement Unit

M

Reflection Event Dead Zone

15m

Distance Accuracy(Reflection Event)

± (2m+2*10(-4) * Distance)

Wavelength of VFL Option(nm)

650

Output Power of VFL Option(mW)

>=1

Date storage capacity

1000

Communication Port

USB

Power Supply

Alkaline Battery

(3pcs AA 4.5V Batteries)

Battery Operating Time

≥5000 measurements

Working Temperature(℃)

-5~40

Storage Temperature(℃)

-10~60

Humidity

0~85% (Non-condensation)

Dimensions(mm)

200 X90 X50

Weight(g)

320