TC-550 Fiber Optic Preparation Tool Kit
Fiber Optic Stripper Miller 3 Holes
- For stripping 250 micron buffer coating from 125 micron optical fiber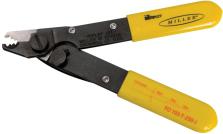 - Precision diameter hole & V-opening in blade allow for accurate buffer coating removal - Factory set, requires no adjustment
- Prevents scratching or nicking of optical fiber
- All cutting surfaces are precision formed, hardened, tempered and ground assuring precise buffer removal
- Length: 136.5mm, Weight: 71g
721 Multi-Wire Strippers/Cutters
- 721 strips and cuts 20-10 AWG (8-2.6 mm) wire sizes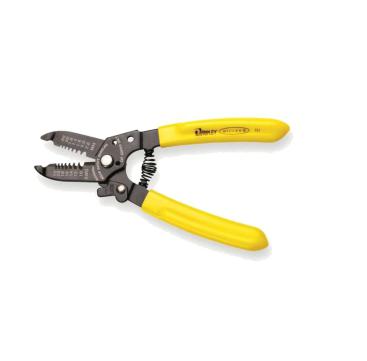 - AWG/mm wire sizes embossed/pad printed on tool
- Cushion grips for comfort
- Serrated plier-type nose for wire pulls and loops
- Handle lock mechanism for compact and protective storage for ease of use with pouch
- Wire looping/bending holes conveniently located
- Automatic return spring for ease of use and speed
- Compact and lightweight with narrow nose design
- Black oxide finish for extra corrosion protection
- All cutting surfaces are precision formed, hardened, tempered and ground, assuring clean, accurate strips
- Length: 6.25 in (159 mm)
- Weight: 3.8 oz. (107.7 g)
Stripper for metallic cable ACS
- Professional-grade cable slitter designed for longitudinal, circumferential (ringing), and mid-span slitting of corrugated
aluminum or copper shield cables, medium-density polyethylene (MDPE), and high-density polyethylene (HDPE) conduits.
- Adjustable blade depth allows slitting of coverings of up to 1/4" (6.3mm) thick
- Blade fully retracts inside body for storage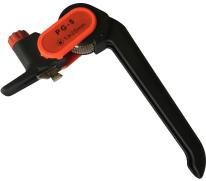 - Cam-adjustable lever allows blade dig-in in mid-span application
- Lever teeth designed for soft and hard jacket/covering applications
- Longitudinal slitting of cable/duct ranging from 1/2" (12.7mm) to larger sizes
- Circumferential slitting of cable/duct ranging from 1-1/2" (38mm) to larger sizes
- Window cutout to access fibers inside duct ranging from 1-1/2" (38mm) to larger sizes
- Weight: 180g
Cleaning cube for connectors ferrules and buffer gel
- Complete Fiber Optic Cleaning System – No refills to buy or investment in expensive mechanisms to maintain

- Effective "Wet" or "Dry" Connector Cleaning – The only cleaning system that gives both options
- 200 perforated wipes per box 2.75"x 3"(7.0cmx 7.6cm)
Cleaning Wipes
- Lint-free, non-abrasive 75mmx75mm pad used for cleaning optical surfaces, precision instruments, tools

and electronic equipment. - Use with Fiber Optic Cleaning Solution.
- 50Wipes/Pack, 20 Packs/Case
- Weight: 40g
Stripper for loose tube
- 45-163 Blue buffer tube stripper (For coax Applications)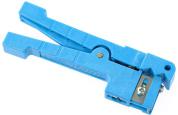 - Use for Coaxial Cable 1/8 in. to 7/32 in. (5.6mm - 3.2mm) O.D.
- Adjustable blades can be set for any depth to help ensure nick-free strips
- Weight: 30g
KS-1: Kevlar® Shears
- Lightweight shears ideal for cutting Kevlar® strength members found in fiber optic cable construction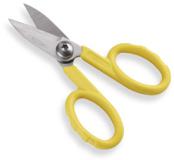 - Ergonomic molded handles provide comfort for both right and left handed users
- One micro-serrated blade reduces slippage for more positive cutting action
- Blades made from high carbon molybdenum, and vanadium steel for long life
- KS-1 available with nylon pouch with belt loop
- Length: 3.9 in (99.99 mm)
- Weight: 2.77 ounces (79.0g)
Cable stripper rotary
- The original tool for slitting cable insulation from PVC, Teflon & THHN insulations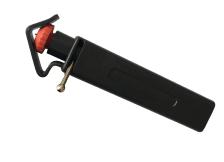 - Adjustable cutting depth for insulation up to .18" (4.5 mm-25mm) thick
- Blade swivels for circular, longitudinal & spiral cuts - great tool for window slits!
- Weight: 90g
- Dimension: 1483*2.5cm
Alcohol Bottle
- 250ml Plastic Twist-Lock Automatic Alcohol Dispensing Bottle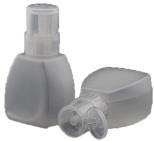 - This alcohol bottle features a twist-lock (prevents leakage and is suitable for travel) plastic pump from Menda
which eliminates direct hand contact, spillage, fumes and waste while protecting purity.
- Weight: 20g
- Dimension: 13*7*3.5cm
Carrying Bag

- Dimension: 20*15*13cm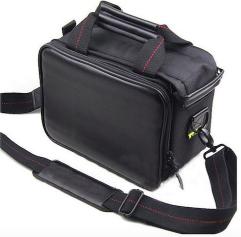 - Weight: 600g