TC-8 Handheld VFL
TC-8 Handheld VFL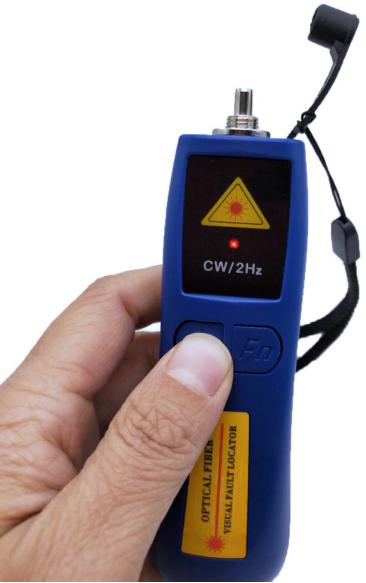 I. INTRODUCTION

TC-8 Series Handheld Visual Fault Locator totally complies with the human engineering. It's small in size, easy to operate, portable and integrated with a launching indicator. It is usually used to inspect the damaged or broken point of an optical fiber, cable, patch cord and etc.
If the inspected fiber does have a defect, user could find the visual laser at the broken or damaged point.
TC-8 Series Handheld Visual Fault Locator is suitable for both single mode and multimode fibers. The performance will act a little different on different fiber coat and color.
II. MAIN FEATURES
-- Totally comply with the human engineering design. Small, portable and durable
-- Standard multi-adaptor can be applied to connect with almost any adaptor type.
-- Higher output laser power
-- Integrated with continuous wave and 2Hz modulated wave output function
III. SPECIFICATIONS
Model

TC-8-5

TC-8-10

TC-8-20

TC-8-30

Output Power①

5mW

10mW

20mW

30mW

Laser Launcher Level②

CLASS IIIA

CLASS IIIB

CLASS IIIB

CLASS IIIB

Detecting Range③

1- 5km

8- 12Km

12-15km

18-20km

CW Mode Battery Life④

About 13 hours

About 6 hours

About 5 hours

About 3 hours

2Hz Mode Battery Life④

About 23 hours

About 12 hours

About 10 hours

About 6 hours

Laser Launcher Type

LD

Optical Connector

Universal 2.5mm adapter

Output Wavelength

650nm±10nm

Modulation Frequency

CW / 2Hz

Power

2*AAA dry batteries

Working Temperature

-10℃~+50℃; <90%RH

Storage Temperature

-20℃~+70℃; <90%RH

Dimension & Weight

L120mm×W33mm×H30mm / about 67.8g

Standard Accessories:

2*AAA batteries, carrying bag, user manual

Optional Accessories:

Male FC to female LC adapter for LC connector
Note:
① The output power is figured out by multi-mode optical fiber at 23℃±3℃.
② It is strictly prohibited to direct the human eye and please take precautions to avoid static electricity releasing.
③ Detecting range will be different with different fibers.
④ Working hours is figured out by 2*AAA batteries at 23℃±3℃, it will be a little different by using different AAA batteries.
IV. PICTURES