TC-170 Smart OTDR
TC-170 SMART OTDR
OTDR + POWER METER + VFL + LASER SOURCE + RJ45 CABLE LENGTH TEST
I. INTRODUCTION

TC-170 Smart OTDR is a new generation of portable and intelligent measuring instrument designed by TUCSON-OPTIC. It adopts 3.5-inch color touch screen. The internal integration can help customers effectively solve the field test & maintenance.
TC-170 Smart OTDR is mainly used to measure the length, loss and connection quality of all kinds optical fiber cables. It can also be widely used in engineering construction, line maintenance & testing, emergency repair, the development and production of optical fiber cables.
II. FEATURES
-- Lightweight, portable and cost-effective.
-- One key operation and legible test data.
-- Integrated with visual fault locator, optical power meter, laser source functions and RJ45 cable length test function.
-- Use the rubber key so it is dustproof, waterproof, shockproof ability; suitable for fieldwork.
-- Use big capacity battery; long working time; suitable for long time fieldwork.
-- Suitable for engineer construction and maintenance fault location of FTTX and access network.
III. STRUCTURE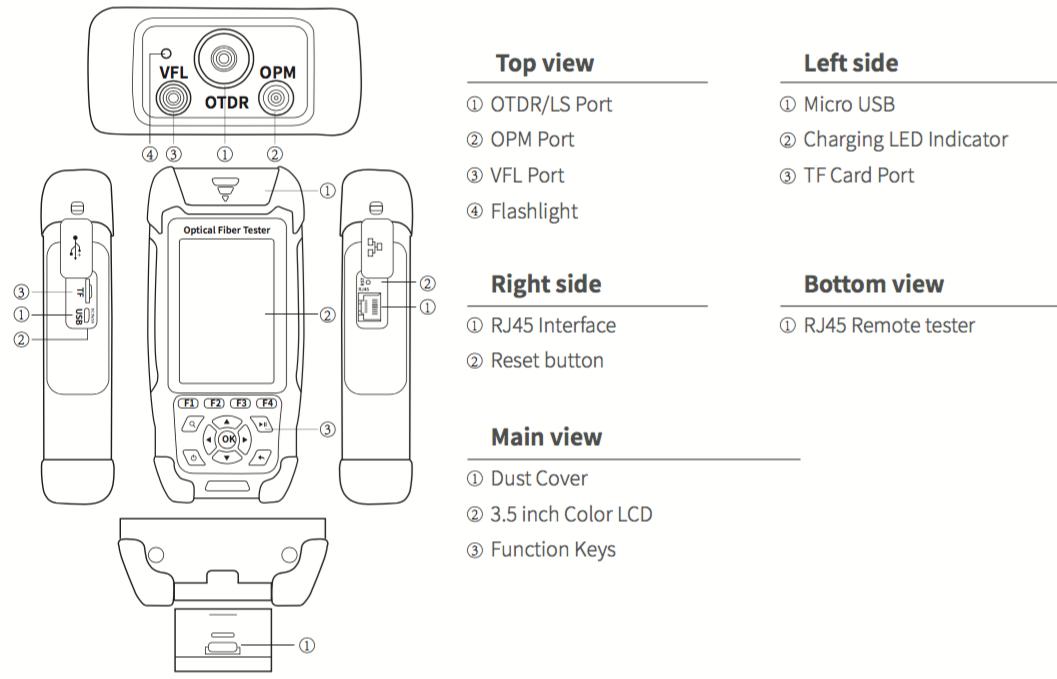 IV. MAIN MENU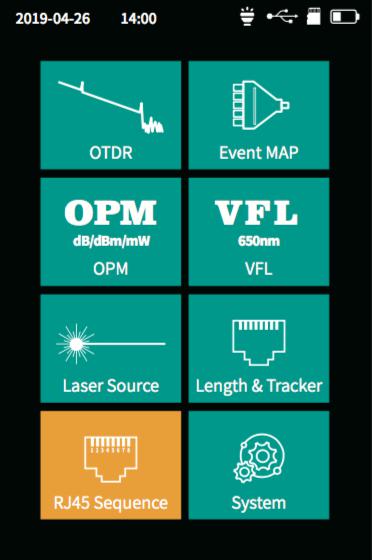 V. PORTS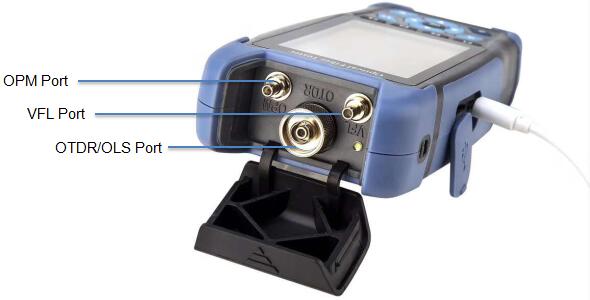 VI. TEST INTERFACE
| | |
| --- | --- |
| | |
| OTDR TEST | EVENT MAP |
| | |
| OPTICAL POWER METER | VISUAL FAULT LOCATOR |
| | |
| RJ45 SEQUENCE | SYSTEM SETTING |
| | |
| OPTICAL LASER SOURCE | RJ45 CABLE LENGTH TEST |
VII. SPECIFICATIONS
OTDR Module (Basic)

Fiber Type

SM Fiber

Wavelength

1310nm/1550nm

Dynamic Range

24dB/22dB

Event Dead Zone

3m

Attenuation Dead Zone

8m

Measuring Range

500m~60km

Pulse Width

3ns~10us

Accuracy Distance

(Reflection Event)

± (1m +Sampling Interval + 0.005% x Test Distance)

Loss Accuracy

± 0.05dB/dB

Sampling Points

16K~128K

Sampling Resolution

0.05m~8m

Reflection Accuracy

± 3dB

Adapter

FC/SC

VFL Module (Standard)

Wavelength

650nm±20nm

VFL Output Power

≥ 10mw

Mode

CW/1Hz/2Hz

Fiber Type

SM/MM

Adapter

2.5MM Universal

Optical Power Meter Module (Standard)

Measurement Range

-50~+26dBm

Wavelength Range

800nm~1700nm

Calibrated Wavelength

850nm, 1300nm, 1310nm, 1490nm, 1550nm, 1625nm

Detector

InGaAs

Uncertainty

< ±5%

Frequency Identification

CW/270Hz/330Hz/1KHz/2KHz

Adapter

FC/SC

Optical Laser Source Module (Standard)

Wavelength

1310nm/1550nm

Fiber Type

SM

Emitter

FP-LD

Adapter

FC/SC

Output Power

≥ -5dBm

Output Stability

CW, ±0.5dB/15min(test after 15 minutes of preheating)

Modulation Frequency

CW/270Hz/330Hz/1KHz/2KHz

RJ45 Cable Length Test Module (Standard)

Cable Receiver

Will be supplied in the accessory

Test Range

300m

General Parameters

Display

3.5 inch, Color Non-Touch LCD

Power Supply

Lithium battery: 3.7V, 4000mAh; Adapter: 5V DC, 2A

Battery Working Time

Standby >20h; Measuring Time >12h

Data Storage

Internal ≥600; External: TF Card

Working Temperature

-10℃ ~ +50℃

Storage Temperature

-40℃ ~ +70℃

Humidity

0~95% (non-condensation)

Dimension

173mm x82mm x 37mm

Weight

≤350g